Recently one of my favourite farmers markets friends gave me a few coconut covered Cacao and Orange Bliss Balls to try. I do not think she realised but cacao and orange is my perfect flavour combo. This recipe is a slight variation of her adaptation of another recipe and is now one of my favourites. The bliss balls are moist with a divine texture and taste. And like all the recipes that I add to our collection, it is made of totally wholesome and healthy ingredients. Thanks Helga you are an amazing inspiration.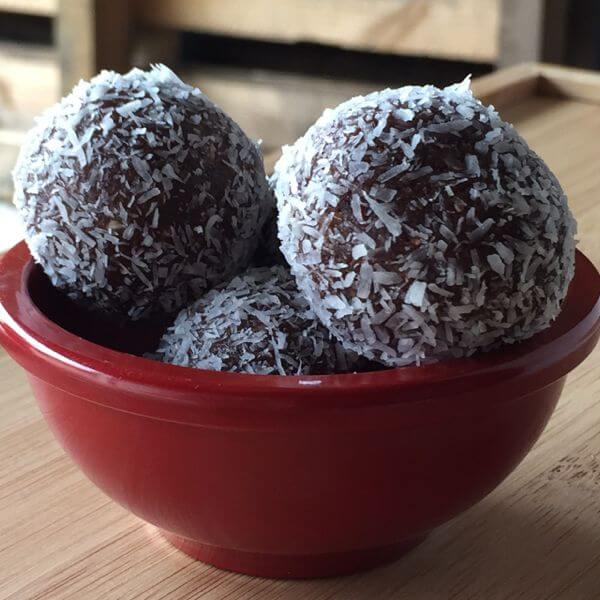 Cacao and Orange Bliss Balls
Instructions
Grate rind of the orange and juice the orange, discarding the orange pith as this will add a bitterness to your bliss balls. Add the chia seeds to the juice and set aside to form a gel.

Place ABC Nut Mix into a food processor and grind nuts to a course texture.

Except for the coconut, add all other ingredients and the orange rind and juice into the food processor and process to your preferred consistency. The mixture should be firm enough to hold a ball shape but not dry. If the mix is too dry add a little water or extra juice, and if a little wet, add some desiccated coconut.

Put the coconut into a bowl, then form small balls, to the size you prefer (I like small dessert spoon size balls the diameter of a 20c coin), and roll into the coconut.

Refrigerate for up to a week and enjoy. These Orange and Cacao Bliss Balls also freeze really well, so make a load and save some for a day when you do not have so much time on your hands.
Nutrition
Calories:
313
kcal
|
Carbohydrates:
27
g
|
Protein:
7
g
|
Fat:
23
g
|
Saturated Fat:
7
g
|
Sodium:
6
mg
|
Potassium:
392
mg
|
Fiber:
6
g
|
Sugar:
14
g
|
Vitamin C:
8
mg
|
Calcium:
44
mg
|
Kilojoules:
1310
kJ